International Carats Korean Support
Icarat_Ksupport is brought to you by Seventeen Billboard K-Projects Admins and the fanbases and accounts they collaborate with.
---
Voting
Find all the guides and important announcements here
---
Streaming
Find the forms, the guides and important annoucements here.
---
Other Projects
Find other projects and guides on Seventeen Billboard Carrd
PLATFORMS & KSHOWS CRITERIA
Why are korean streaming platforms so important?
... or why are they still important ?
Each music program in South Korea have different ways to count the votes and decide the winning artist of the week. The elements such as digital sales, physical sales, SNS points, broadcast points, live votes, etc., are the important things that have been used for a long time
About the streaming platforms
Melon and Genie are the biggest streaming sites in South Korea that shows what Korean public are listening to. By streaming on Korean streaming sites means that you want your artist to get acknowledged by Korean public.
KOREAN MUSIC SHOWS criteria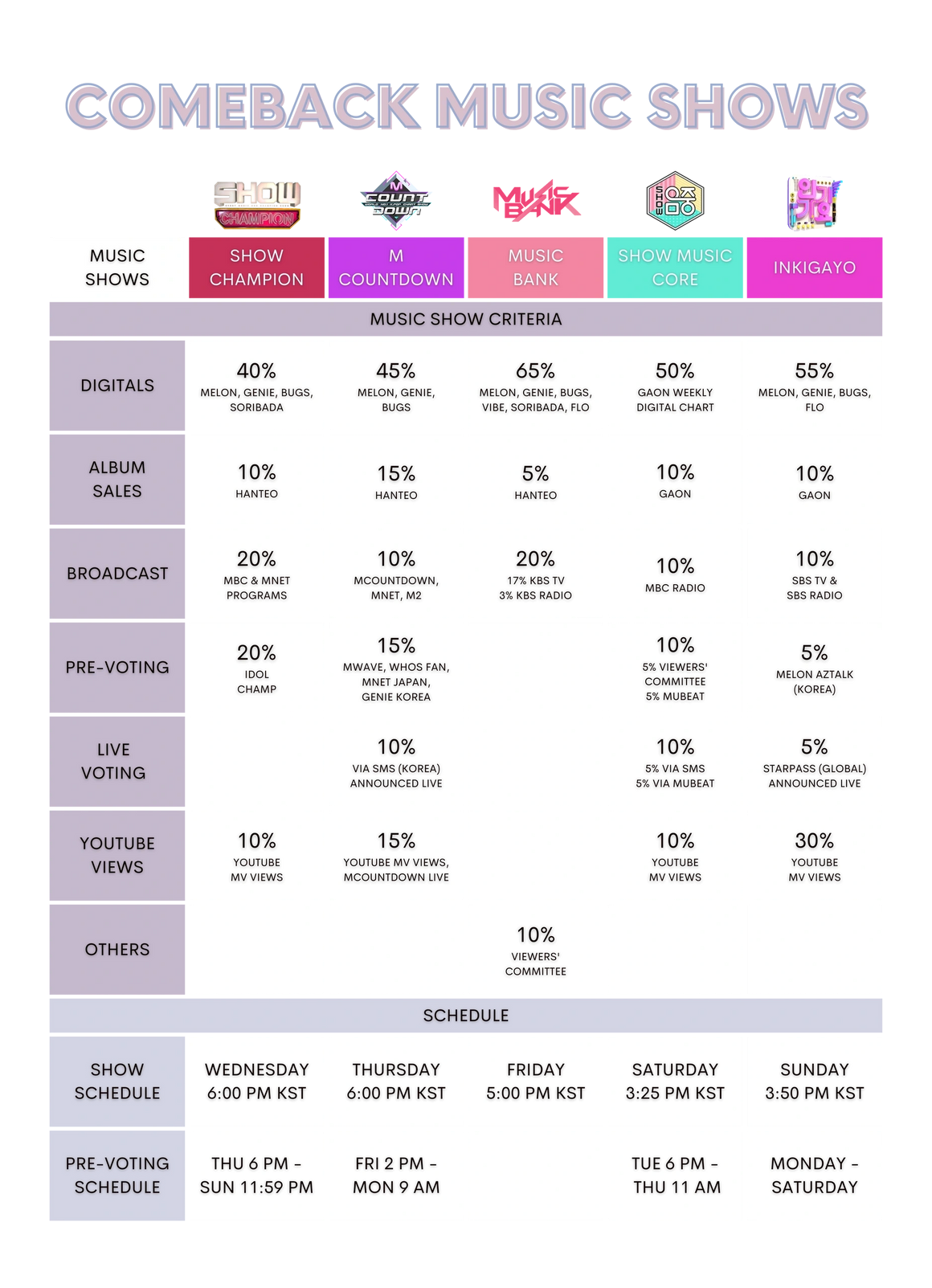 Guide created by @caratguide for the 17 Voting Union
DIGITAL STREAMING PROJECTS
Projects focus on streaming on Melon and Genie but priority is usually given to Genie streaming, for the reason that the Melon accounts we have are limited, and the method of streaming can be complex for international fans due to Melon's recent strict policy (limiting streaming to Koreans only).

We are looking for:
1) Subcoordis (with experience)
2) Streamers
3) Donors
streamers
You must be a Carat

You must be able to stream DAILY

You like team work, you're communicative, positive, and motivated

You are familiar with streaming platforms or eager to learn

You need to be able to send proof shots that you are streaming every hour

You must have passed the Spotify trial
subcoordis
You must be a Carat

You must be able to monitor a team daily

You must be able to back up one of your team members if they're unavailable

You must have streamed during two digital streaming projects (at least)

You must be recommended by a current subcoordi

You must be fluent in English
Sagititis donec
Sed id semper risus
Lacus luctus accumsan tortor posuere ac ut consequat. Etiam dignissim diam quis enim. Quis auctor elit sed vulputate mi sit. In egestas erat imperdiet sed euismod nisi. Mollis aliquam ut porttitor leo a diam sollicitudin.
Thank you!
Accumsan tortor posuere ac ut consequat. Viverra nibh cras pulvinar mattis nunc sed blandit.